If there is one phrase that describes John Demeritt, it's "people person." His background in sales, along with his philosophy of having respect and empathy for others, is highlighted through every interaction he has. Upon speaking with John, it is clear that he values people above all else — making him an embodiment of the core Oxford values.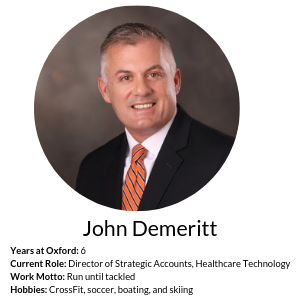 Q: What is your professional background?
A: I have 30 years' experience in sales and business development, most notably in biotechnology and big pharma with Amgen. I also worked with Allergan for some time, and partnered with them on some lucrative projects. I was looking for my next solid opportunity, and Oxford found me. There was an explosion in EHRs at the time and it seemed like a really interesting field to be part of.
Q: How long have you been with Oxford?
A: May of 2019 marks 6 years with Oxford.
Q: What daily habits do you recommend for success?
A: I believe in maintaining a balance between mind, body, and spirit. In my opinion, time in the gym or in prayer will translate to success in your professional life.
Q: What attributes do you think are most important in a leader?
A: Teamwork, which requires a constant respect and empathy for your coworkers. That means in every email, on every phone call, and in every meeting, respect and empathy comes first. People will value you as a leader if you genuinely care about them
Q: What's the best book you've read on business or leadership?
A: The 7 Habits of Highly Effective People – it provides a timeless roadmap. I don't know anyone who couldn't use some sharpening of the saw, and this book will help you do that.
Q: What are the top three trends impacting healthcare that you see?
A: First, I'd say telemedicine. Second, further consolidation of health systems. Third, increased need for a workforce with soft skills, and that's not just true of healthcare. I see how that's translating to teams and through leadership in our clients as well. As it pertains to our consultants, they're the ones who need those soft skills, so it's important that they focus on developing them.
Q: What do you like best about working with your team?
A: We all understand what our teammates are doing, why we're doing it, and the support that goes into helping each other achieve success. We're all moving in the same direction. Teamwork is important to me and to the members of my team. We all have a shared mindset.

Q: Can you tell me about a project that was your favorite?
A: There was a project at a university hospital and medical center in New York where we did an optimization of an Epic install. Due to various unique variables with the project, we found ourselves in a position where we were essentially a de facto IT department. As the client was so satisfied with the work and skills we were able to provide, they hired on some consultants full time, and we are now poised to work with them in other areas. For example, they have a project on the horizon where they are planning to unite three separate hospitals, and the way we handled previous projects with this client makes us an ideal partner for them. I'm proud of the way the team came up with unique, creative ways to address each challenge as it arose, and as a result, we're now positioned to take on another long-term project with this client.
Q: What's one thing you wish every healthcare facility understood about staffing?
A: Consultants are not commodities and at Oxford, we take the time to find the right consultant for the role. They fit better on your teams because our recruiters take the time to listen to what is needed from a technical perspective, and a team point of view. This comes back to soft skills. We work to find not just consultants, but leaders on a project.
Q: Why Oxford?
A: For clients, our aim is to provide quality consultants who can impart knowledge to their staff once a project is completed. We work to find someone who fits culturally, and is not simply a good fit from technical point of view.
For consultants, we have a dedicated team of hardworking recruiters who are always looking for the next best project. We have relationships with our clients that translate to consultant opportunities, and our recruiters bridge that gap.
For internal employees, Oxford offers a sustained model of excellence as it pertains to the treatment of our clients and consultants. That track record of success from the client and consultant perspective pushes us forward to where we're headed in the future. We're always looking for the next big trend in healthcare and how we can use our assets to take advantage of that.
For me personally, Oxford is a leader in the industry and the more time I spend in the field, the more I see the trust that our clients and consultants have in us. You can't just recreate that. I see the excellence built into the Oxford model, and I like what I see. I enjoy working with my team.
Developing relationships is what Oxford is all about, and John Demeritt's people first attitude is what makes him such an excellent addition to our team. Working with John is a dynamic, collaborative process where every party is treated with respect, empathy, and kindness. It's clear that he is making a huge difference in the lives of everyone he works with.