The strategy behind everything Beth Schneider does is about knowing what makes people tick. Her capacity to care, combined with her intense desire to understand the 'why' behind every project, makes her uniquely suited to serve the needs of her clients. Beth takes the time to understand every detail behind each project she works on, and uses that information to identify a custom solution to every task.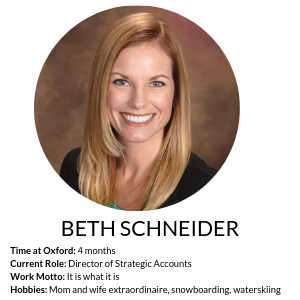 Q: What is your professional background?
A: I am a flight attendant turned recruiter. I've been involved in staffing for over 20 years, with 10 of those years spent with a Vendor Neutral Managed Service Program (MSP) firm. I moved into staffing because you're able to have a more holistic view of what the client needs. With MSP, you talk to the managers, but you're unable to receive the whole picture. I enjoy getting a better understanding of the project as a whole so I can come up with a more creative solution.
Q: How long have you been with Oxford?
A: Four months, and everyone has been incredibly welcoming!
Q: What daily habits do you recommend for success?
A: Have a planned, organized day. I set calendar reminders for everything (reports, time slots to turn off my email, etc.) Email is a distraction, so having set times to shut it down is very helpful for me. I like to remind myself that email can wait an hour so I can focus on other things. I owe myself that time. It's important to have a visual reminder to put lower-priority things away and get other, more crucial things done.
Q: What attributes do you think are most important in a leader?
A: The ability to care about people and what matters to them. I also believe it's important as a leader to have fun and work hard alongside your people.
Q: What's the best book you've read on business or leadership?
A: Start with Why by Simon Sinek. My first step with any project I'm working on is to start with the 'why.' This was a great policy to have when I was a flight attendant, and it has continued to serve me well over the years. If your tray table is down or your seat back isn't upright, it prevents people from exiting the plane during an emergency. If you explain to people the reasoning behind having these precautions in place, they're more inclined to do what they're supposed to do.
That's why I start with 'why'. I like to ask clients what their 'why' is so that I can determine my next steps.
It's all about changing people's perspectives. There is a reason for everything, and that reason is more motivating than anything else.
Q: What are the top three trends impacting healthcare that you see?
A: First, the Affordable Healthcare Act (ACA). Clients are seeing the impact of this on their budgets. Whether you're looking at staffing or contingent labor, you still have to achieve the same goals, but your funding might not be as robust as it once was, and that's a huge concern for our clients.
Second, I'd say staffing shortages. That has been a constant issue for organizations. As our population continues to grow, providers are facing the challenge of keeping pace with more demanding needs from a larger number of people. In addition, healthcare jobs aren't as appealing to the general population anymore. They tend to be a lifestyle more than a job, and work-life balance is very important to the younger generations.
Third, patient experience. How do we best care for our patients? They don't just come into an office anymore. The ability to connect with a physician via email, text, or video chat is an option that a majority of people now expect. Giving patients that positive user experience is becoming increasingly more important as online reviews become more prevalent. Everyone is a more informed buyer, so hospitals have to put an emphasis on customer satisfaction.
Finally, all of these things are technology based. Today, everything revolves around technology and it is vital that providers keep pace with it.
Q: What trends are you seeing in talent and recruitment this year?
A: Candidate experience is crucial. Glassdoor and other review sites provide a view into businesses that might not otherwise have been there, and it effects candidates' opinions before they ever walk through the door. If the onboarding experience is too convoluted or your application process isn't the best, you could lose potential candidates which is a huge detriment to strategies overall.
In addition, there is a big push towards data analytics skill sets. Specific to healthcare, hospitals are getting smarter, and they want to continue to see how they can utilize that data to better serve their patients.
Brand awareness is also becoming more critical. Having a good reputation and selling your brand makes it a point of pride for candidates to have your name on their resume.
Q: What do you like best about working with your team?
A: Everyone has been extremely friendly. I got a call from each of my peers the first week welcoming me to the team and offering help and guidance if needed. The healthcare team here at Oxford is passionate, fun, and success-focused.
Q: How do you maintain a healthy work/life balance?
A: Planning and preparation, along with taking advantage of anyone that will deliver things directly to my doorstep! I travel quite frequently, and have young kids, so I take advantage of grocery delivery services. I plan a full menu for the week so I know what food everyone is eating, including myself. If we run out of vitamins, I simply order them online and have them delivered. It's an instrumental tool in my household.
Q: Why Oxford?
A: I was a client first and therefore, I know the level of service provided, and the quality of support and consultants that Oxford provides. I used to work with current members of the healthcare team at Oxford, and I built trust and respect for them. I always knew my Oxford team was going to get things done. They asked the right questions, and the candidates always showed up as expected. In a hospital, you have people who are in a vulnerable state, whether it's their financial information or health information. You absolutely must have workers that are vetted and screened thoroughly, and Oxford cares about that.
Oxford is a well-respected organization that cares about their consultants. The ability to offer consistent, competitive work opportunities is something we pride ourselves in.
For internal employees, the tenure is something I was very impressed with. I love how long people have worked at Oxford believing in what we do. It says a lot about the organization.
Q: What is your work motto/favorite quote on success?
A: It is what it is. Focus on and give your energy to what you can impact, and let the rest go.
Q: Who are you most inspired by?
A: My dad. His life lessons are the key to my success. One of my favorite sayings of his are the five P's: Prior Planning Prevents Poor Performance.
At Oxford, having Beth on the team is an invaluable contributor to our organization's success. The ability to approach projects with a fresh perspective, and understand the 'why' behind each initiative is key to achieving goals both for her clients, her team, and herself.