As a former NFL pro who played for the Jets, the Giants, and the Dolphins, Arthur "Art" Thomas, Director of Strategic Accounts at Oxford, approaches his work the same way he would a game of football. A team player who always strives to be the very best, Art looks at each day with a strategic eye. He ensures that he rises early, plans out his day, and gets the most difficult things done first. Whether he is forging new relationships with clients or collaborating with his team, Art works to focus on the "wins in each day."

Q: What is your professional background?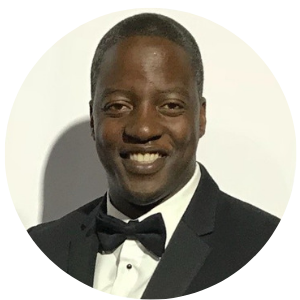 A: My first job after graduating from The University of Virginia as a student athlete was with the NFL for 3.5 years and CFL for 2 years. While I was playing professional football, my girlfriend (now wife) was working for an IT staffing company. Over the course of those years she would talk through a lot of what she was doing at work. Naturally, I was interested because she was starting her career at the same time I was. Communicating with her clients and consultants was just as important as the communication I had to have on the field with my teammates. A lot of what she did was setting expectations and over-communicating those expectations. Once I was done playing football, it was an easy transition for me to get into recruiting.
I knew I needed to find an industry that was going to be around for a long time. That's when I found Oxford Global Resources. I saw that they had been around for 30+ years and they were continuing to grow. At the time, they were building their Healthcare IT segment, and I was one of the two recruiters who came from outside of the organization to help build up the Healthcare IT division. It was a great opportunity to get in and learn from the ground up. I knew if I put in the same drive, focus, and effort into this new career at Oxford that I did to play in the NFL, I would be just fine.
Q: How long have you been with Oxford?
A: It'll be 9 years on March 15, with my current role taking up 7 and a half of those years. For the first 18 months I was a recruiter. I learned as much as I could from doing daily role plays and interviewing consultants in that time. I then transitioned into sales as a Regional Manager and from there grew into my current role as a Director of Strategic Accounts.
Q: What daily habits do you recommend for success?
A: As an athlete, I am always thinking from a sports perspective. Some days you're going to lose and that's ok, but it's important to learn from those losses and put together as many wins as you can. The goal is to have as many wins as possible every year. In order to do that, I need to have a routine – I get up early, make sure I plan out my day, and get the most difficult things done first. Then, I spend my afternoons making connections with my internal team and customers. Being consistent day in and day out is key in my opinion.
Q: What attributes do you think are most important in a leader?
A: The ability to listen. Understanding every level of what's needed, and having a good grasp of the business. If you understand the ins and outs of a business and you're able to listen to your customers and your team, you'll be able to deliver on what is needed for both or adapt and implement change. It's also important to set the "right goals" for yourself and your team.
Q: What's the best book you've read on business or leadership?
A: I've just started reading Relentless: From Good to Great to Unstoppable by Tim S. Grover. What I have read thus far has me motivated. In sales and sports there is a saying of "what have you done for me lately," and that can be difficult. The author starts off the book talking about Hall of Fame athletes like Michael Jordan, Kobe Bryant, and Dwayne Wade. Then he explores their approach to winning and how they are focused on the ultimate goal of winning championships over and over again. It's never just one championship. There are different levels of success in any field you choose. The ultimate goal for those Hall of Fame athletes is to be unstoppable and that goal never changes for these closers. So far this book has me engaged and focused on how I need to approach 2019 and continue to grow personally and professionally.
Q: Top 3 trends impacting healthcare that you see?
A: I gained a lot of insight this year at HIMMS19 in Orlando, and from working with and understanding our customers. First, I'd say patient engagement. How can physicians, doctors, nurses, and specialists connect and engage their patients? Either connecting with them prior to a visit, engaging with them while they are at a visit, or keeping them connected and engaged after they've been treated.
Second, connectivity. By this I mean how quickly we can get connected. In the last 10-15 years we have gone from 3G to 4G and now 5G. All of the progress we are making with connectivity will allow for us to do more. One example of that would be Telemedicine. Being able to see, talk, and connect with patients and doctors just by using your smartphone. Across the board this will have an impact throughout Healthcare.
Lastly, how do we share information? I believe right now we have the capability to share information within a state. Information is being sent to the Cloud and shared with other health systems. But how easy is it to access this information if you're in another state or country?
I believe you can't do anything unless you're passionate and motivated about it. That's why I love this industry. In a way, I'm contributing to something bigger than me, something that will be long-lasting for years to come.
Q: What do you like best about working with your team?
A: Everyone brings something unique to the table. We're like Voltron – we have a lot of different skill sets, but when we come together we're pretty strong and we work well together. The people are great, and each one of them has their passion. We all learn from each other and compete with each other, and therefore we grow together.
Q: Can you tell me about a project that was your favorite? Favorite outcome?
A: A big chunk of this business is relationships. I met a client manager in passing one day because she had a ton of books on her, and she looked like she had a lot going on. At the time, she was part of the PMO group, and we kept in touch. Then 3 or 4 years later, she had been promoted to VP, and she needed help. She had a daunting task of implementing a new EMR. Because of that relationship we were able to work together on that project, and it was successful for her team and mine. She is one of my favorite people to speak with and has taught me a lot.
Q: Why Oxford?
A: For clients, we do our very best to over-achieve on what we say we can deliver. Having never been with any other staffing company I would say the type of people we have and the culture we have created is why we are different from our competitors. For me, the relationships I have made with my customers are more than just that. They are true friendships that will continue to be there long after my career with Oxford is over. I believe this to be true for several people in a sales role across the company.
From a consultant perspective, I tell all my consultants they should work wherever they find the best opportunities. However, consultants have a dedicated recruiter at Oxford – I've seen relationships between recruiters and consultants spanning 10+ years. They know each other on a personal and professional level. In that way, Oxford is unique. We connect with our consultants throughout the process so they know they're not alone, and we have their backs.
For me, Oxford was my first job after playing football, so I went into it with a blank canvas. This is my team. If you're an employee, client, or consultant, the opportunity to work with and for Oxford is top notch. If I weren't with Oxford, I wouldn't be doing staffing. Go team Oxford!
Q: What is your favorite quote on success?
A: "To get something you've never had, you have to do something you never did."
With all the energy and compassion wrapped up in Art, it's no wonder he's been a success at Oxford. His strategic planning and unstoppable motivation make him a great addition to the team. His efforts in the Healthcare IT industry are sure to have a lasting impact on the generations that follow.